Surfskating is far more than flips and fun
Share - WeChat "If everybody had an ocean, across the USA, then everybody'd be surfin', like Californi-a," The Beach Boys sang in Surfin' USA, in the late 1960s, capturing the vibrant summer feel of the state still known for its surfing culture.
Today, thanks to the surge in surfskating — a trend that allows riders to emulate the fluid feel of surfing on terra firma — even in inland cities, people can enjoy the similar liberating sense of euphoria they'd get from riding the waves.
That thrill only gets stronger when you enter a skate bowl, gliding smoothly between the curved walls and flat bottom to build up speed and sustain momentum.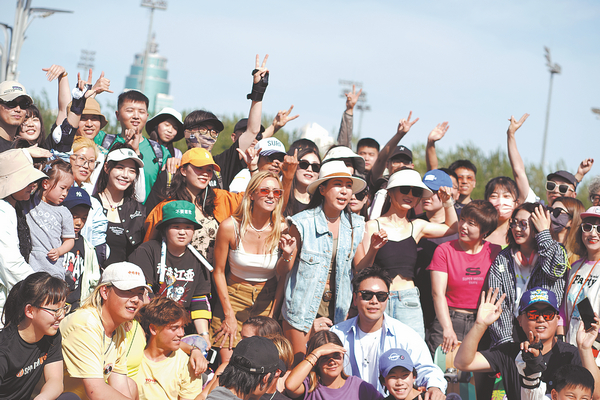 Since getting my own surfskate board, I often visit a nearby park where two skateboarding bowls have been built amid of the trees.
I still remember the day I first went there.
Against a sunset backdrop in hues of pink and orange, I took to my board, poised to glide into the bowl.
Each moment was heavy with a sense of anticipation, causing a rush of adrenaline, my focus on how to carve higher up the bowl's walls, and execute my next transition flawlessly.
The wind flowed across every inch of my skin, carrying with it the damp, earthy aroma of grass. In that moment, a certainty washed over me: I had truly embraced the summer.
I find that even though the bowl is just a skate spot, it feels like a miniature world of its own, distinct from the fast-paced, bustling and socially distant metropolis of Beijing where it is located.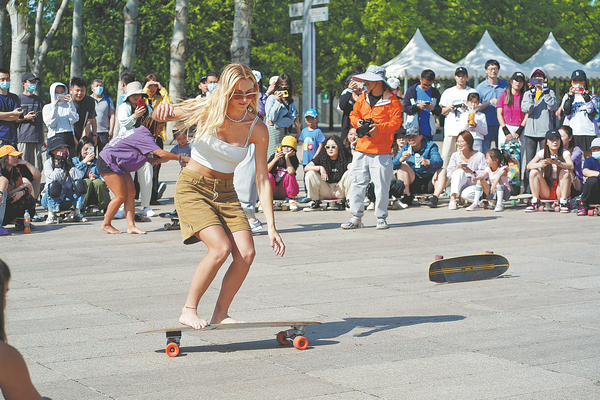 Every time I take my board there, I'm met with friendly greetings from fellow skaters.
It's a place where veteran riders willingly assist beginners. The concerns of utilitarianism take a back seat, giving way to discussions about tomorrow's weather, or how to perform a new trick.
The rhythmic echo of skateboards gliding over the cement mingles with the pulsating beats of hip-hop resonating from a loudspeaker.
At such times, the only apt description for my feelings is an undeniable sense of "chill".
The more I frequented the park, the better I got to know some of my fellow skaters.
I found that apart from their shared passion for skateboarding, they also shared other joys within the collective.
Take Qiao Dawang, for instance. Rather than trying to improve his boarding skills, he has a distinct fixation with skateboard maintenance.
Every time he visits the park, he comes with tools and is always ready to be a problem solver.
Often, he can be found seated beside the bowl, meticulously observing whether the other skaters' boards possess the desired flexibility, assessing any unusual sounds they make during a ride, or thinking about changing certain components to enhance the board's compatibility with a skater's style.
When asked why he's always there to help out, he shrugs and explains that he's aware of his own limits.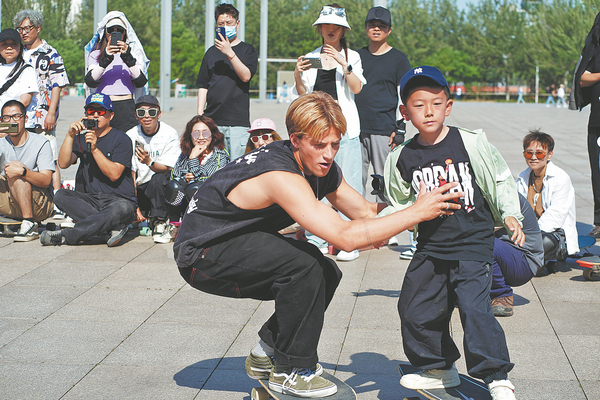 "I want to support and cheer others on, and help them break their own barriers, so that more skaters can dive into the thrill and have fun," he says.
Duo Lan is another surfskater I encountered. It's hard to miss the lively woman with her sun-kissed skin, well-defined leg muscles and radiant smile. She glides around the bowl with ease, her long hair trailing gracefully behind her.
Duo believes that women differ from men physically and psychologically, and that they encounter distinct challenges when they engage in extreme sports. She says that similarities among people of the same gender tend to foster understanding and mutual support.
"One day, while I was practicing a trick, I was quite scared. A male skater nearby told me he couldn't understand my fear, but we women can better understand and encourage each other," she explains.
That's why, back in April last year, she founded the Beijing Girls Surfskating Community and since then, has been organizing a weekly free training session for women near the National Stadium.
Sports like surfskating, Frisbee and paddleboarding surged in popularity among urban residents during the COVID-19 pandemic. The public fervor for certain trendy sports has diminished since then, but Duo says that she hasn't observed any waning interest in surfskating.
"The community has expanded to nearly 2,000 members and, every Saturday, our gatherings consistently attract around 100 participants," she says.
As she runs the community and connects to a larger group of people, she finds that her confidence has grown.
"Nowadays, I feel like this city empowers me in so many ways," she says.
"Every time I'm out surfskating, I'm attuned to its weather, air quality, humidity, temperature and the very breeze that sweeps across it."
Close to her home is a secluded spot where she often practices alone.
"There, I'm acutely aware of the changing seasons as they unfold through the shifting landscape of grass and trees," she says.
"A surfskate board is my conduit for forging a deeper connection with the city I'm living in."
These feelings evoked by surfskating are also supported by theoretical underpinnings. Li Chuang, an assistant researcher at the Institute of Sociology at the Chinese Academy of Social Sciences says that surfskating is a kind of lifestyle sport that revolves around community engagement and that, in today's society, young people are more used to surfing the internet, resulting in fewer chances for real-world interaction.
"At this point, the community-driven nature of surfskating provides opportunities for young people to foster better connections with the people and environments around them," he says.
Li mentions the concept of fujin (the nearby) proposed by anthropologist Xiang Biao, which refers to a shared space where one encounters people of diverse backgrounds on a regular basis.
Xiang has observed that, in urban China, the public is simultaneously preoccupied with the very near (the self) and the very far (the imagined world). Meanwhile, young people can rarely offer an account of the people they meet every day, or of the recent changes to the place where they live, a phenomenon he calls "the displacement of fujin".
Li believes that the enthusiasm people exhibit for surfskating reveals their yearning to reclaim this sense of fujin.
"As an illustration, by partaking in this activity near their homes or elsewhere in their city, they uncover hidden corners that normally escape their attention. This exploration gradually fosters an emotional connection with these locations," Li adds.
Indeed, the park that I have been frequenting recently to surfskate has already become one of my favorite places in Beijing. Whenever I find myself among the surfskaters, it's a reminder that in the midst of life's hustle and bustle, there's always room to chase after what it is that ignites the fire in our souls.
Contact the writer at xingwen@chinadaily.com.cn
Most Popular